Frequently Asked Quesions
What size does my room need to be for a pool table to fit properly?
Please use the diagram below to determine the proper room size for each size pool table:
01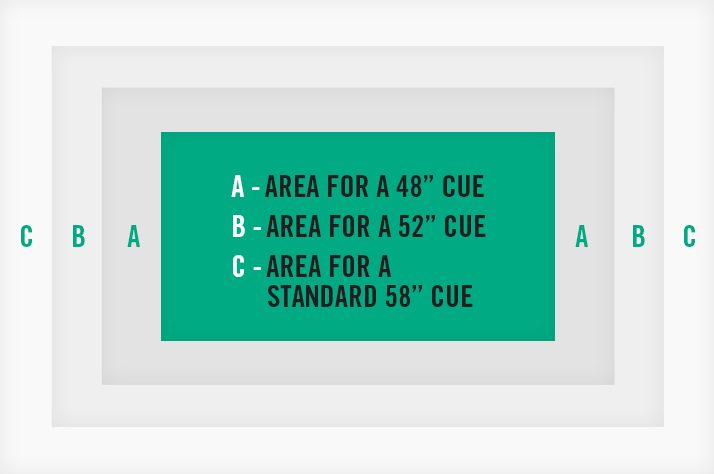 SEVEN FOOT TABLE: 3.5' X 7'
(Playing area: 38" x 76")
A - 11' 6" x 14' 6"
B - 12' x 15'
C - 13' x 16'
OVERSIZE EIGHT FOOT TABLE: 4' X 8'
(Playing area: 46" x 92")
A - 12' x 16'
B - 12' 6" x 16 6"'
C - 13' 6" x 17' 6"
EIGHT FOOT TABLE: 4' X 8'
(Playing area: 44" x 88")
A - 12' x 15' 6"
B - 12' 6" x 16'
C - 13' 6" x 17'
NINE FOOT TABLE: 4.5' X 9'
(Playing area: 50" x 100")
A - 12' 6" x 16' 6"
B - 13' x 17'
C - 14' x 18'
How do I know what size table I have?
To properly measure your pool table: Stand at the head or foot of your table, looking down the table lengthwise. With a tape measure, measure the length from the edge of the left cushion, where the ball makes contact, to the edge of the right cushion, where the ball makes contact. Measure the length between head and foot the same way. If your table is broken down, you can measure the slate's width and we can tell you what size your table is. The most common pool table sizes are listed in the diagram above.
02
Can my pool table be moved as one entire piece?
NO! Your pool table must be broken down correctly in order to move it without causing any damage to the table. Moving an assembled pool table can cause damages to the frame and/or slate that will majorly affect playability and will cause irreparable damage to the frame and legs, significantly lowering the value of the table.
03
How much does a pool table weigh?
A slate pool table can weigh anywhere from 500-1,200 pounds. A pool table's weight depends on the size, type of wood, and the thickness of the slate. This should be taken into consideration when installing a pool table in an upstairs location. Without proper floor support, the floor will flex under the weight and cause issues with the table's levelness as the weight of the table settles over time. An unsupportive floor can also cause movement as the players walk around the table, changing the levelness of the table.
04
What type of felt should I use on my pool table?
Your choice in pool table felt will depend on your pool table needs and usage Felt can affect the way the ball rolls and responds. When you hear someone say that a table is "fast", they mean the cloth on that table is very smooth and slick, allowing the ball to roll much faster and react stronger when English is applied to the ball. If you shoot regularly and want a high quality felt that will give your the most accurate and best ball roll, you will want the Simonis felt. Simonis is the fastest and most responsive fabric and this is why it's chosen by professional players. If you have a simple home table that gets minimal, casual use, a lower quality fabric may be the choice for you. If you have children or teenagers at home and spills or stains are a concern for you, then you may decide to choose a fabric with Teflon. We can discuss your felt needs during your free estimate.
05
06
Do I have to have my felt replaced when my table is moved?
No. If you are happy with the condition and appearance of your felt, the cloth can usually be reused if it has been removed carefully and has not been re-stretched more than two times before (except worsted cloth). Keep in mind that any knicks or small tears in the cloth will get slightly larger and more noticeable when re-stretched onto the slatebed, and refelting at the time of your move or setup saves you labor cost.
How long should my felt last?
Residential Table: The cloth on your personal table should last about 3-5 years depending on the amount of play. Most people however will choose to change the cloth color long before it is worn out. Keeping your pool table covered is the best way to protect and preserve your felt.
Commercial Tables: Due to the high traffic on commercial tables, the cloth should be replaced every 6-9 months.
You can prolong the life of your cloth by brushing your table properly and regularly, and by taking care to not place drinks or other items on the playing surface.
07
How do I know if my bumpers/cushions are bad?
Walk along your table pushing your finger into the tip of the cushions every two inches. When you press your finger into it, it should have a little give. If they have gone bad you won't be able to push in at all because the tip will be hard. You will also notice a difference in the sound and the ball's reaction when it hits the rail. When the balls strike the rail you will notice a deadened thud sound and the ball's speed will decrease dramatically after contacting the rail. Bumpers can also 'melt', changing shape and creating a more sloping side that causes the ball to easily jump off the table as if it were on a ramp.
08